The Past and Future of Insurgent Country in the Mainstream
When I interviewed Greg Martin, the guitarist for The Kentucky Headhunters, several months ago, he explained their success in the mainstream by saying "Once in a while Nashville let's their guard down a little bit and we came in on the wave of that."
What he was referring to was something very real and something that is due to happen again very soon. The term "insurgent country," was coined by Bloodshot Records, if memory serves me correctly, but it can be applied to various movements since the 1950s. Today we will look at some of these movements and then make an educated guess about what the future holds.
Two notable movements that are missing here are the country-rock of the '60s and '70s and the alternative country of the '90s. That's because country-rock was a rock movement and it's core artists gained little to no traction within mainstream country. Likewise, alt. country was composed of artists who either didn't make it big in country music or those who had, but were put on Music Row's backburner when new sounds and styles emerged.
Rockabilly
There's a well-known story that could very well be more myth than fact. It goes like this: when Elvis Presley played the Grand Ole Opry, he was told by the Opry's director that he should "go back to driving truck." Whether the story is true or not, that 1956 appearance was his one and only performance on the Opry and for decades there were country music purists who accused him of "killing country music."
But Elvis was just one man. Along with producer Sam Phillips, he created a new sound that mixed country music with R&B energy to create rockabilly. It should be noted that Jimmie Rodgers and Hank Williams were singing the blues long before Elvis did, but their blues came from a largely acoustic, rural tradition, whereas the blues of Elvis and the other Sun Records artists came from Memphis.
But, again, Elvis was just one man. He charted his share of singles on the country charts up to his death, but the stations at that time also had to make way for Carl Perkins, Jerry Lee Lewis, and, most importantly, Johnny Cash. Not to mention the dozens of others who rode in on the new wave of rockabilly. What I think really pissed Music Row off wasn't necessarily the sound (indeed, they bastardized it and several well-known country artists released rockabilly-flavored singles at the time), but rather the fact that Memphis was presenting a threat to the Nashville monopoly.
In the end, what killed rockabilly was the rise of the teen idols in the world of pop music and the rise of the Nashville Sound in country. Chet Atkins and some others had realized that if you wanted to compete with Elvis, you had to reach further than just the traditional country market. So artists such as Eddy Arnold, Jim Reeves, and Patsy Cline began pushing the steel guitars and fiddles further back in the mix and adding strings to their records.
Roger Miller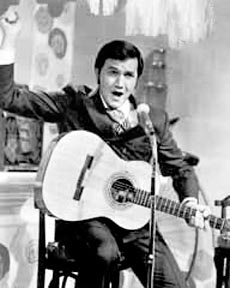 Roger Miller was movement unto himself. He was the grandaddy of outlaw country and a true alternative to the Nashville sound. His music was progressive without being pop. He was the idol of every young songwriter in Nashville at the time. His records were released on an unknown label that he single-handedly put on the map. And it was so different from the norm that people were forced to pay attention.
He was also one of the biggest stars of his time, charting hits on both the country and pop charts and even hosting his own television show.
I'm getting a bit off subject here, but Roger is also the most underrated and unfairly neglected artist in the history of country music by a large margin. As I've said before, his only serious competitors for the title of best country songwriter are Hank Williams and Kris Kristofferson and Kris would be the first to sing Roger's praises and admit his influence.
There were probably several factors that led to the end of Roger's career as a hit-maker, but echoes of his music are still being heard today if you're listening hard enough.
The Bakersfield Sound
The Bakersfield sound was another direct reaction to the Nashville Sound, but, like Roger Miller, didn't attempt to stay traditional, just to progress properly. Bakersfield artists generally used rockabilly instrumentation and uptempo rock beats, but also kept the steel guitar as a driving force and usually kept the strings back in Nashville where they belonged.
The two most popular Bakersfield artists were Buck Owens & His Buckaroos and Merle Haggard & the Strangers. It's important to note the names of their backing bands on these early releases because they were true bands in every sense (especially the Buckaroos). Each member had a role and each member got a chance to shine. At a time when Nashville was dominated by studio musicians and Waylon wasn't allowed to record with members of his touring band, Bakersfield was letting fans bring home what they heard at the shows: pure country music that was edgy, but still respectful, with no element of slick pop to be found.
Outlaw Country
Outlaw country is the hardest of all of the insurgent country movements to trace back to it's roots. There's little doubt that it blossomed in Austin, but it's roots formed in Nashville itself from artists who were pissed at not being able to do things their own way. There are various starting points I could throw out and see which one stuck. Kristofferson's debut album, Honky Tonk Heroes, Willie's first Fourth of July Picnic, or any one of a dozen others. The important thing is that it happened, not where it started.
Nevertheless, you had Waylon Jennings, Willie Nelson, Tompall Glaser, Kris Kristofferson, Jerry Jeff Walker, and countless other, both commercially successful and underground legends, who were showing folks that country music wasn't just what they saw on Hee Haw. This was a brand of music that could be as cool as any of the rock bands of the time.
Indeed, Waylon and Willie did gain rock star status. The album Wanted!: The Outlaws became the first in country music history to sell a million copies and, flying in the face of the era's disco, pop country, and arena rock, outlaw country and Southern rock were the only two genres in existence where people could hear great music that didn't filter out the soul.
The Great Credibility Scare
"The great credibility scare" is a term created by Steve Earle after the fact, but it's probably the best description for insurgent country in the '80s and early '90s.
On the surface, the artists who defined this era of country music don't seem to fit together. You had everything from the neo-rockabilly of Dwight Yoakam and Marty Stuart, to the redneck rock of Earle and the Kentucky Headhunters, to traditional country such as Ricky Skaggs and Keith Whitley.
The genre's formation can be traced to Gram Parsons, who took a young singer named Emmylou Harris under his wing. Emmylou, in turn hired Rodney Crowell and Ricky Skaggs as members of her band. Skaggs was young, but he was already a veteran of the bluegrass world and had played with guys like Whitley and Marty Stuart.
Crowell met and married Johnny Cash's daughter Rosanne and first came to prominence as her producer. Meanwhile, Dwight Yoakam drifted to Nashville from Kentucky via Los Angeles.
Confused yet? Don't worry. Just listen to the music, but not before I mention Foster & Lloyd and Junior Brown.
The great credibility scare died an early and untimely death due to the excesses of two of it's most prominent artists. Keith Whitley died and Steve Earle ended up in prison. There were shades of this movement in the mainstream up until the late '90s, when The Mavericks were tearing up the charts, but after about '91 it would never stand a chance against the new breed of pop country. Many of the artists involved in the great credibility scare have moved on to successful careers in alt. country and Americana.
Where Do We Go From Here?
So what now? As you can tell, it's time for another shakeup on Music Row, but how do we get there? Who will break through? I believe we're already seeing the beginnings of a new age and more and more mainstream artists seem to be making more traditional music in an effort to adapt to the oncoming revolution. Maybe that will be enough for them to survive, but one thing for sure is that we aren't going to get rid of Taylor Swift. There was room back then for the Bakersfield Sound and the Nashville Sound to be played on the same station and, later, for both Waylon Jennings and John Denver. Like it or not, the country music industry isn't going to cater to just one particular group's taste in music and I don't think it should.
Waylon said something in his autobiography about how country music is one of the most diverse genres out there, but the problem is that Nashville only had one type of country music. The great thing about America (and country is American music) is our freedom to choose what we like. There's enough room for both Rascal Flatts and Hellbound Glory on the country station. The listeners will then decide in the marketplace which one they want to hear more of. But first there must be a choice.